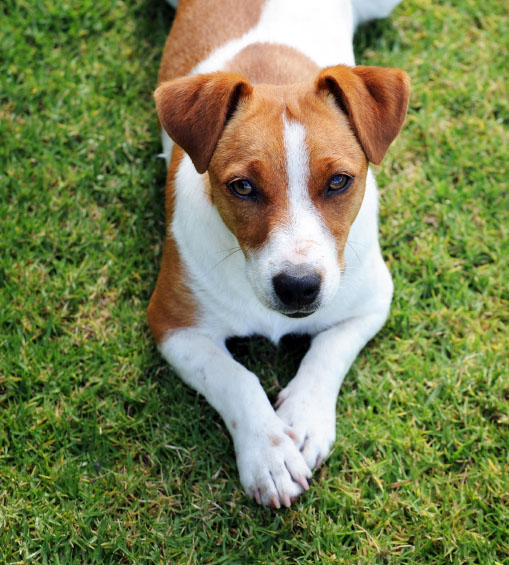 Service dogs are welcomed and accepted as required by law, per the American Disabilities Act*.
We have a few dog-friendly rooms which include Caitlin's, Olde English and Captain's Suite as these rooms have external entrances. It is necessary to call for availability. There is a one-time pet cleaning fee of $35, or $50 for two dogs. Due to insurance and Florida health code regulations, non-service dogs are restricted to the guestroom and must be crated while in the room. We ask that you please be respectful of the guestroom furnishings. Dogs are not permitted on the furniture or in the beds. Some breeds are restricted. We reserve the right to charge for damage and/or extraordinary cleaning necessitated by having a pet in the room, including evidence of dogs on furniture or beds. There are lovely grassy areas in our neighborhood for dog walking. Augustine is a wonderful dog-friendly city. Dogs are welcomed at most restaurants that have outdoor seating; for a list of dog-friendly businesses, CLICK HERE.
There also are wonderful St Augustine pet lodges, pet sitters, and kennels. Please call for recommendations or visit out Pet Friendly St Augustine page.
*Service animals are defined by the Americans with Disabilities Act (ADA) as dogs that are individually trained to do work or perform tasks for people with disabilities. Examples of such work or tasks include guiding people who are blind, alerting people who are deaf, pulling a wheelchair, alerting and protecting a person who is having a seizure, reminding a person with mental illness to take prescribed medications, or calming a person with Post Traumatic Stress Disorder (PTSD) during an anxiety attack. Service animals are working animals. They are not pets. Further, the task a dog has been trained to provide must be directly related to the person's disability.
A dog whose sole function is to provide comfort or emotional support do not qualify as service animals under the ADA.