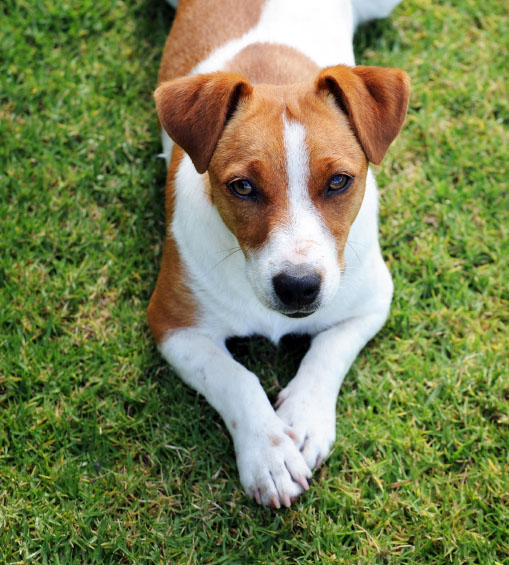 Service dogs are welcomed and accepted as required by law, per the American Disabilities Act*.
We have a few dog-friendly rooms: Blue Porcelain; Country French; Bridge; Caitlin's; Olde English; Captain's Suite and Country Victorian.  These rooms have external entrances so you can come and go without disturbing the other guests.
Our Pet Policy:
Thank you for reserving a dog-friendly room and choosing the Kenwood Inn for your pet-friendly getaway! We look forward to welcoming you and your four-legged family member. We would like to share our pet policies to assure your well-being, our other guest's enjoyment, and your pet's comfort while enjoying a safe and comfortable visit.
There is a $35 – $50 one-time pet fee which covers the extra cleaning and products used after a pet has stayed in a guestroom.
Pets must be vaccinated and not weigh more than 50lbs. No more than two pets in a room. Your pet may not visit other guestrooms. Pets must be well-behaved and get along with other pets and human guests.
Your pet is not allowed to be left unattended in the room.
You must have liability insurance in case your pet bites a person or another pet guest. Some dog breeds are not permitted due to insurance restrictions (I'm sure you know which ones).
Please have your pet on a leash at all times throughout the inn's public spaces. For the comfort of all guests, pets are not allowed in the living rooms areas, courtyard, back porch, or pool area. The Health Department does not permit pets in food service areas.
Your pet must be housebroken. Pee-pees pads are not permitted. There are several grassy lots in our immediate neighborhood to walk your pet, and St Augustine law requires you to pick up after your pet, and no barking dogs.
How to avoid Extra Housekeeping Charges:
If your pet is accustomed to lying on furniture or beds, we ask you to bring a crate, blankets, or sheets to protect the inn's furnishings. Any pet damage to the inn's furnishings or contents will be your responsibility including additional cleaning fees.
Guest's pets are expected to be well-behaved and quiet, and ideally 'in its crate' when in the room. We request you provide us with an active mobile phone number so that we may contact you. The inn reserves the right to terminate occupancy without refund if this policy is broken and a disturbance persists.
Pets must not be bathed in the inn's bathtubs, Jacuzzis, or showers at any time or extra cleaning fees will apply.
Professionally trained and ADA compliant service dogs that provide life-saving services are exempt from some of these guidelines. ADA does not recognize "comfort" dogs. Comfort dogs are welcomed as pets.
You will be asked to sign this statement at arrival:
Your signature below affirms that you are responsible for the pet(s) brought into your room and you agree to indemnify and hold harmless The Kenwood Inn, its owners, and employees from any claim, action, liability, or suit arising from any event related to or stemming from the pet(s).
Pet Name/Breed: _______________________________
Pet Name/Breed: ________________________________
I undersigned and agree to the policies and requirements listed above.
Signature and Date __________________________________ Active cell phone (s): __________________________
—
Other info:
St Augustine is a wonderfully dog-friendly city. Dogs are welcomed at most restaurants that have outdoor seating; (a list CLICK HERE) but by law, you must: Hold, and keep the pat on, a leash; No barking; and you must Pick-up after your pet.
There also are wonderful St Augustine pet lodges, pet sitters, and kennels nearby if needed.
*Service animals are defined by the Americans with Disabilities Act (ADA) as dogs that are individually trained to do work or perform tasks for people with disabilities. Examples of such work or tasks include guiding people who are blind, altering people who are deaf, pulling a wheelchair, alerting and protecting a person who is having a seizure, reminding a person with mental illness to take prescribed medications, calming a person with Post Traumatic Stress Disorder (PTSD) during an anxiety attack, or performing other life-threating duties. Service animals are working animals, and not pets. Further, the task the dog has been trained to provide must be directly related to the person's disability. You must verify if the dog is a service animal required because of a disability, and what work or task has the dog been trained to provide.
A dog whose sole function is to provide well-being, companionship, comfort, or emotional support do not qualify as a service animal under the ADA regulations and are welcomed as pets.