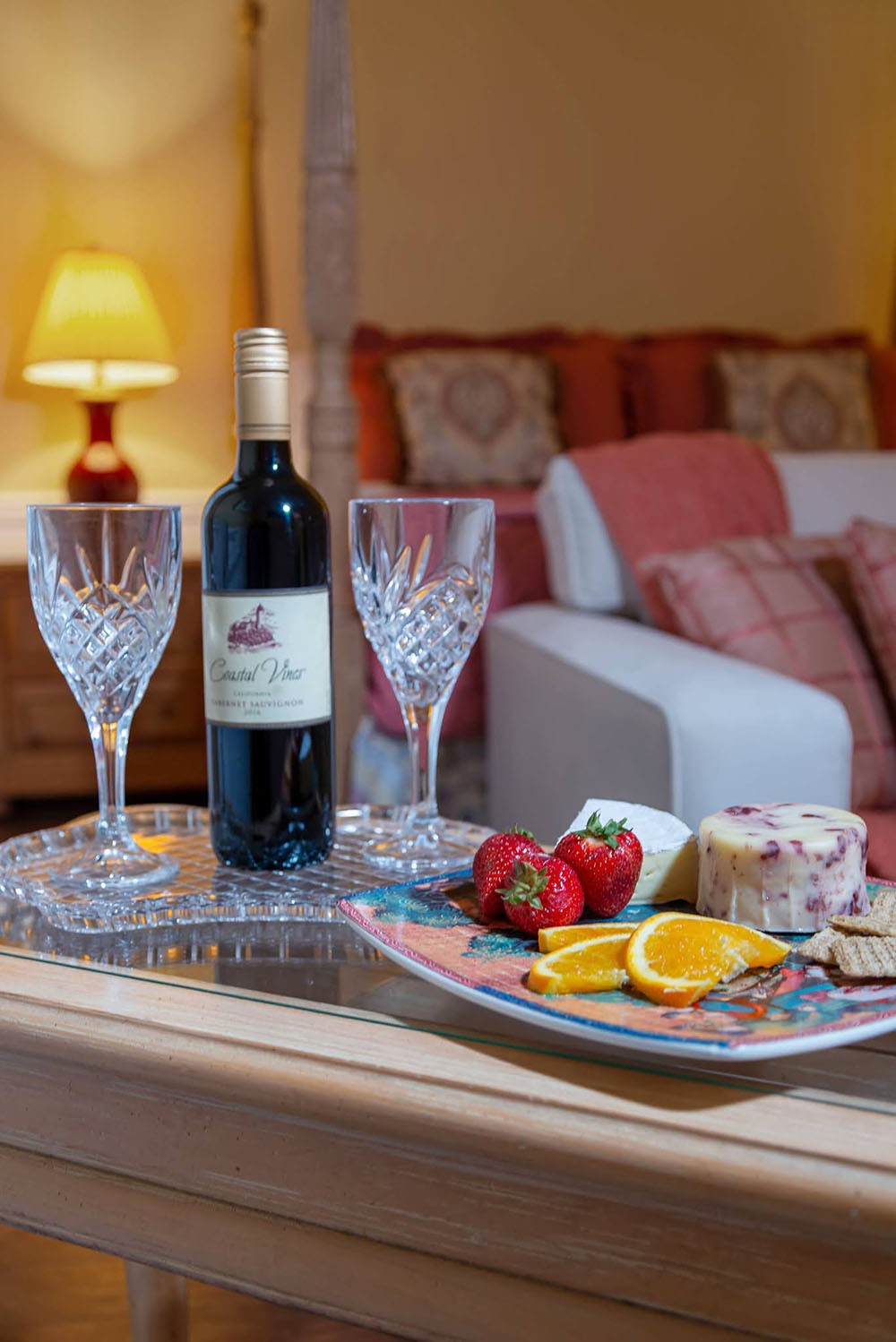 We hope to have the pleasure of welcoming you to Saint Augustine's Oldest Bed and Breakfast, The Kenwood Inn.
If you have any questions regarding our policy or need an exception, please contact us.
What's included in my room rate?
Your stay at The Kenwood Inn includes a comfortable and clean room and breakfast. Also included is an evening wine social, all-day beverages, afternoon sweets, off-street parking, WiFi throughout the inn, saltwater swimming pool, and use of the Inn's bicycles.
Taxes in the amount of 10.5% tax (6.5% Florida, 4% St. Johns County) will be added to the room rate.
Rates are based on single or double occupancy regardless of the number of guests the room or suite will accommodate.
Extra Guests
Each additional guest aged 12+, $45 per person per night plus tax
Children 3 years to 12 years, $25 per child per night plus tax
Children under 3 years of age, no charge
If you have friends or family the area or staying elsewhere and would like them to join you for breakfast or our wine social, just let us know. . Extra charges apply for each guest invited to the wine social and breakfast.
All rates are subject to change, and may change without notice. The Kenwood Inn reserves the right not to honor rates or discounts published on unauthorized third-party sites.
Holidays and Special Event Periods
President's Day, Memorial Day, July 4th, Labor Day, Columbus Day, Veterans Day, Thanksgiving, Christmas and New Year periods. This also includes special events when scheduled.
Room Features:
Central air and heat
Flat screen television with full cable services
WiFi
Ceiling Fan
Hairdryer
Bathrobes
Iron and ironing-boards, shampoo, conditioner, body wash, lotion, facial soap, make-up remover cloths, and shower caps
All bathrooms are en suite (in-room and private)
Multi-head showers
Some Rooms Include:
Jacuzzi tubs
Balconies or porches
We have a Play 'N Pack as well as a high-chair and an umbrella stroller. Additionally, we have a bathroom shower stool, raised toilet seat, hand-grips along with a walker, wheelchair, hearing impaired strobe light, and cane. Please let us know in advance if you will need to use any of these items.
Privacy and Security:
The Kenwood Inn personnel and our reservation system provider, ThinkReservations, are committed to protecting your privacy including your personal and credit card information. Personal information is collected when you visit our site. We also automatically receive and record information on our server logs from your browser including your IP address.
Your payment and personal information is always safe. The secure Socket Layer (SSL) software used our reservation system provider and Clover, our credit card processor, encrypts all of your information and cannot be read over the internet.
We will NOT sell your personally identifiable information to anyone. Ever.
ADA Compliance:
Kenwood Inn is committed to facilitating the accessibility and usability of this website for all people with disabilities. Over time, we will continue to implement the relevant portions of the World Wide Web Consortium's Web Content Accessibility Guidelines 2.0 Level AA (WCAG 2.0 AA), or such other standards to the extent required by the Americans with Disabilities Act (ADA). On a periodic basis, our website will be tested with assistive technology such as screen readers and screen magnifiers, and by individuals with disabilities who use these technologies.
Please be aware our efforts are ongoing. If, at any time, you have specific questions or concerns about the accessibility of any particular webpage on our site, please email us at contactus@thekenwoodinn.com or 904-824-2116. If you do encounter an accessibility issue, please be sure to specify the webpage URL in your email, and we will make all reasonable efforts to make that page accessible for you.
If you require items, such as a shower bench, raised toilet seat, walker, wheelchair, hearing Impaired strobe light, or cane, please inform us prior to your stay, and we will be happy to have these items available upon your arrival.