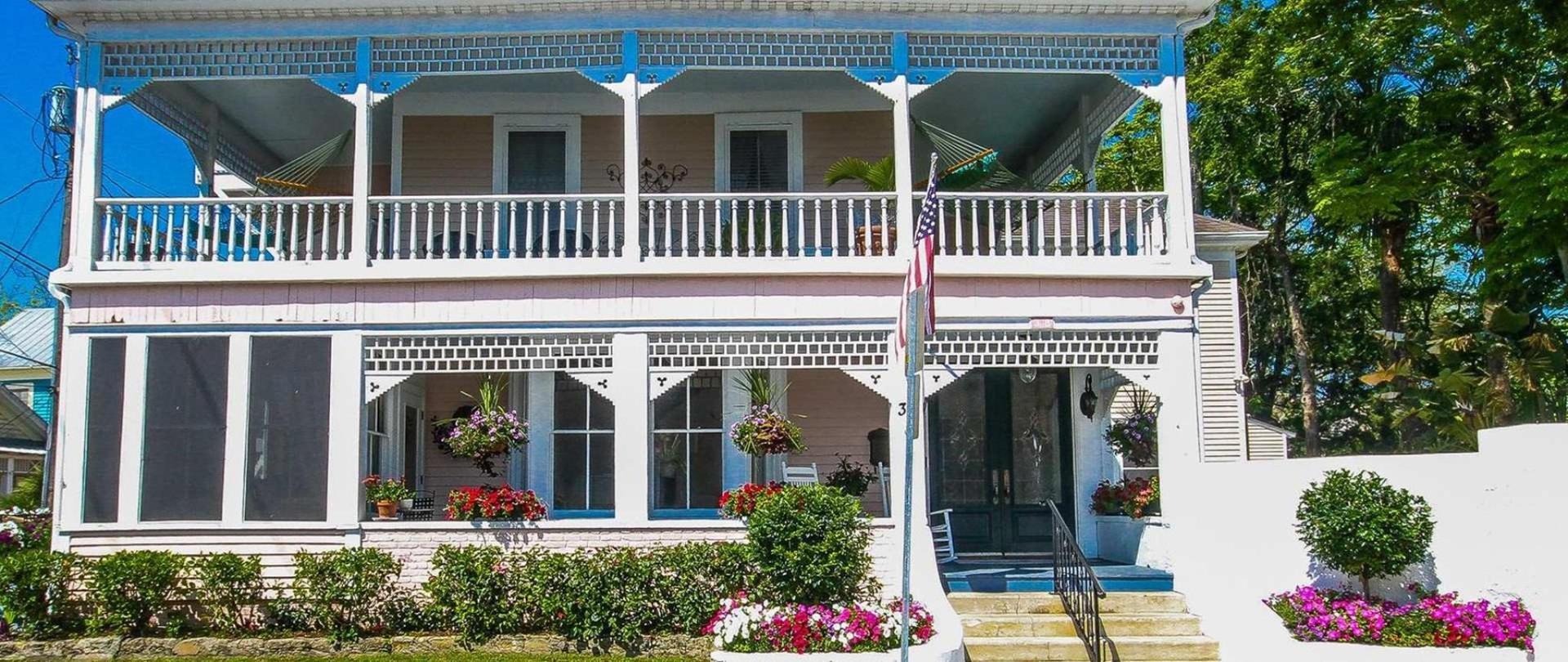 What to Expect at this Bed and Breakfast
This St. Augustine bed and breakfast boasts 14 unique rooms or suites. All have cable TV; private en suite baths with either shower/tub, Jacuzzi, showers with body-massaging heads; or standard shower; antiques or reproduction furniture; ceiling fans; central heat and air-conditioning, and pillow-topped double-, queen- or king-sized beds. Rollaways and queen-size sleeper sofas also are available. Several rooms and suites have decorative fireplaces (ambiant flame) and some have two bathrooms for those who prefer not to share. Hairdryers are provided in the guestrooms as are irons, ironing boards, and bathrobes.

If you are hoping for a St. Augustine bed and breakfast with a swimming pool, you'll not find many, but you're in luck if you stay here! The Kenwood Inn has a magnificent large SALTWATER pool with a huge patio surrounded by a brick privacy wall adjacent to the walled courtyard. Enjoy oversized-cushioned chaise lounges, dining tables, and seating areas for the ultimate relaxing getaway. Our oversized pool towels are always available to our guests. (Our insurance company requires we advise you swimming is at your own risk; there is no life guard on duty. Only registered guests are permitted to use the pool).

If you want a beach experience as well, the Atlantic Ocean is only minutes drive from downtown to the south on Anatasia Island or to the north on Valano Beach. We have beach towels, chairs, and umbrellas available for your complimentary use.
St. Augustine is a wonderful city to explore by bicycle, and The Kenwood Inn has several 26″ adult-size street cruisers, a tandem bike, safety helmets, and locks available for complimentary guest use.
High Speed Wireless Internet (WiFi) is available at no cost throughout the inn, balconies, poolside, and courtyard.
Be sure to read our policies page with regard to reservations, cancellations, smoking, children, pets, etc.
Here's a picture of our newly built pool side purgola set up for a wedding recently.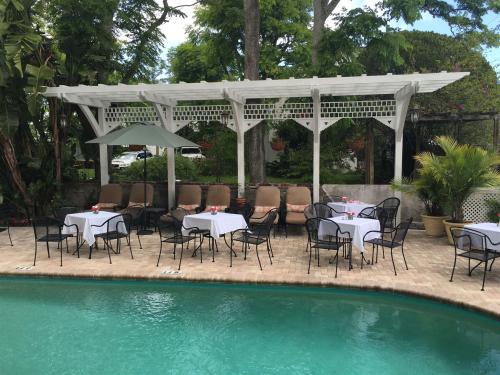 It is not often that you will find a bed and breakfast that has a swimming pool, yet alone a saltwater swimming pool; this St Augustine bed and breakfast, however, features a magnificent salt water pool with a huge patio surrounded by a brick privacy wall adjacent to the walled courtyard and a nice combination of sun and shade. The pool area promotes the ultimate poolside experience, with oversized cushioned chaise lounges; dining tables; and seating areas for relaxing. The pool is open 24 hours.
Just through the gate to the back of the house, you'll find a trickling pond full of fancy Koi. Just a few fun facts about the koi fish — they come in a variety of colors (orange, yellow, white, red, black, blue), not just orange; in Japanese culture, they represent love and friendship; owners who received their koi fish as a gift are believed to enjoy good luck; in Japan, koi fish often are passed down from generation to generation with heirloom status, their normal life span is 25 to 35 years but in exceptional cases have lived to 200 years (so one of our fish could be as old, if not older, than the Inn?).

Best Breakfast St Augustine
Breakfast
Served 8:30 am – 9:30 am
During the week, we love to serve the best breakfast in St Augustine–a homemade breakfast in our walled courtyard features a large covered porch for outdoor dining and overlooks the Koi fish pond. Guests also enjoy a quiet breakfast in their own rooms (for an additional charge).
Breakfast items include a selection of juices, pastries, muffins, cereals, granola, yogurts, fresh fruit and parfaits, and coffee and assorted teas. Hot entrees may include Eggs Benedict, quiches, egg casseroles, waffles, and more.
Breakfast on the weekends include an extensive buffet with items such as traditional loxs and bagels, smoked white fish, chilled shrimp, pancakes, potatoes, and sprial ham as well as the usual midweek items plus signature egg dishes including Eggs Benedict, waffles, pancakes, French toast and more.
For an additional charge, you can also enjoy a romantic breakfast in your room.
Evening Wine Social
Daily 5 pm – 6 pm-ish
This is a great opportunity to meet other guests and share stories about your visit over a glass of wine.
Guest Pantry
The Guest Pantry is located on the main level and includes Keurig coffee machine, refrigerators stocked with all-day beverages of iced tea, lemonade, and water. The cupboard is stocked with a selection of teas and coffees along with flavored coffee creams. Glassware, dishes, and cups are available for your use as well. An ice machine and instant hot water faucet add to the convenience and comfort of the stay. Guests are welcomed to bring their own beverages and use the refrigerators to store personal items.
Many of our guest ask if we share our recipes – of course we do. Just let us know what interests you and we'll send you home with directions. In the mean time, check out our Recipes page.